This past summer, I met the owner of SaunaSpace at the Ancestral Health Symposium, and after talking to him about how the product is made and learning all of the health benefits, I was sold on giving it a try. Since August, I've been using my SaunaSpace nearly every day for about 20 minutes and it's made a huge difference in how I feel. Check out the podcast I recently recorded with Brian Richards on the benefits of infrared saunas here.
There are scientific reasons why it works, but I'll just let you know first what I noticed. I generally have a hard time switching off my sympathetic nervous system and getting into "relax mode." I'm just wired as a type A person, always working on something or feeling like I need to work more. And while I absolutely love my work (because it doesn't really feel like work) I don't do a terribly great job at relaxing. The number one reason I love sitting inside the sauna is because I immediately feel incredibly relaxed. The warm red light is like sitting in front of a fire. I immediately "switch off" and can get into a deep meditative space in a matter of seconds. I'm not kidding. And at the end of the session, I continue to feel euphoric for several hours after.
Now onto the science…
When light from the infrared sauna hits our body, there's a special receptor in our mitochondria that responds, increasing ATP (energy production), releasing a flood of repair functions to our DNA, increasing tissue oxygenation, and increasing cellular regeneration.
It works by bringing your body into a hyperthermic state, raising the core body temp by 3 degrees F for about 5 minutes, improving longevity and regenerating cells in the body and aiding in the detoxification process. A 20-year Finnish study found that frequent use of the passive heat therapy that infrared saunas provide can reduce the risk of stroke, dementia and Alzheimer's disease, lower resting heart rate, improve endurance, increase muscle recovery, increase production of Human Growth Hormone, and increase Brain-Derived Neurotropic Factor (BDNF), which has been called the "miracle growth of the brain", essential in nerve function.
Part of the treatment that 9/11 NYC rescue workers were put on included over 2 hours of sauna use per day, combined with vitamin and mineral support and found a dramatic reduction (69-90%) in toxin levels.
Parasympathetic Sweating is the Key…
When we sweat during exercise, we're in sympathetic mode, which is also our stress mode. It's only when we can activate sweating during parasympathetic mode, or our "rest and digest" mode that our cells are able to repair and rejuvenate.
The results include reduced pain and inflammation, accelerated wound healing, and enhanced cognitive and athletic performance.
Infrared is Ideal for Therapy
The four 250W red-filtered incandescent heat bulbs are optimal for therapeutic use.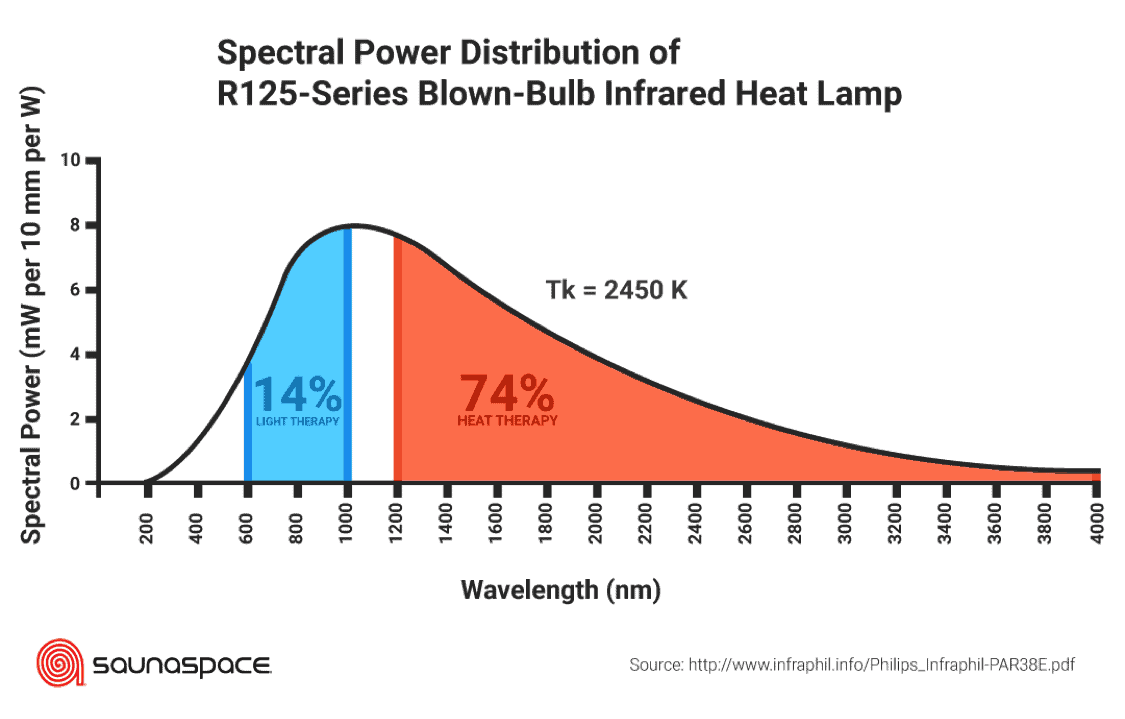 How to Use the Sauna
Sit on the stool about 1.5 – 2 feet away from the light panels, rotating your body about 90 degrees every five minutes or so until you achieve at least five minutes of strong torso sweating. The additional benefit of the optional EMF shield upgrade is that it blocks all man-made EMF while you're using the sauna.
The SaunaSpace has a lifetime warranty and is made in the US, with a 100 day money back guarantee and free shipping. If you're not ready to purchase a full SaunaSpace now, you can get the single light panel for localized use, or you can get the 4 light panel to convert a shower into a SaunaSpace.
As a special offer to my followers, SaunaSpace is offering a 5% discount with the code SUSTAINABLE. Give it a try for 100 days and I'm sure you'll love it as much as I do!